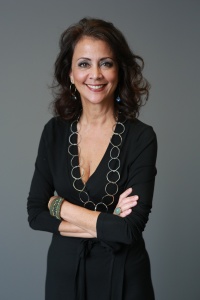 Access a complete "Auto Play" playlist for Celeste Perry here.
A new inductee into the Bay Area Radio Hall of Fame, Celeste Perry is a familiar face and voice to Bay Area audiences. This wasn't always the case; she performed her first media job in disguise — dressed as a chicken. After a successful stint as a radio station mascot, Celeste traded in her feathers for a pair of headphones and began her career as a disc jockey in her hometown of Honolulu.
Upon graduation from the University of Hawaii Celeste began hosting a nightly rock and roll radio show and was also featured on television as the host of a popular local game show called TV Powww. In the early Eighties Celeste decided it was time for a move to San Francisco where she enjoyed a successful career at radio stations KYA and KSFO. Change is inevitable and in 1995 KYA's format was flipped from Oldies to Country where Celeste began a 5-year stint as the Midday Mom. In 1999 Celeste put her career on "pause" and became a full-time chauffer and soccer mom.
She returned to the airwaves in 2007 to host the new KFRC morning show with Dave "The Duke" Sholin and in 2008 was introduced to KOFY viewers as the host of "Canine Companions". Within a year Celeste became a full time TV personality at KOFY. Her rescue dog Veto is often seen working alongside Celeste as she interviews guests, celebrates birthdays and chats about what's on the KOFY calendar. You can catch Celeste weeknights starting at 6 at KOFY TV and hear her on the radio from 10a-3p at Big1037FM. Celeste and her husband live in Marin County. They have two sons and one little rescue dog.