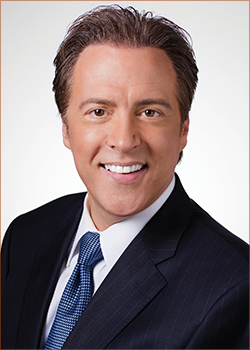 Access a complete "Auto Play" playlist for Dan Ashley here.
A reporter's life is a joy and I have always been so grateful to have found a profession that suits me and that I care about so deeply.
For more than 25 years, I have been privileged to report on such a wide-range of issues and events; some joyful, some tragic, but all profoundly meaningful for me both professionally and personally.
All of these magnificent experiences and opportunities and I could not have imagined any of them when I used to watch Walter Cronkite deliver the news each evening with my family. I thought as a teenager that being a journalist must be such an interesting profession, but never really thought about making it my reality until college. But once I got the bug, that's all it took.
That said, you know what they say about all work and no play! Balance in life is important after all. So, as busy as I am with my career, I do try to make time for other interests, which I have a bit more time to pursue these days now that our two sons are in college.
When I'm not working, you'll find me hanging out with my wife of 25 years, on the golf course with my good buddies, or writing and marketing screenplays with my youngest brother. My other major interest lately is music. I'm having a blast singing classic and original rock-n-roll at various festivals and events around the Bay Area with my band PUSH.
Ashley has received several awards from the Radio Television News Directors Association of Northern California (RTNDA) for Best Newscast. In 2008, he was honored with an Emmy Award for outstanding achievement in news reporting. During his news tenure in Charleston, N.C., Ashley also won the prestigious DuPont Columbia Award and the Edward R. Murrow Award.
Dan is very involved in the Bay Area community. Every year, he works through the "Dan Ashley Friends of Camp Concord Golf Tournament" to raise money to send underprivileged youngsters to summer camp at Lake Tahoe. He also serves on the boards of the Bay Area Red Cross, The Commonwealth Club of California, the Bay Area Leadership Foundation, First Tee of Contra Costa County, California Symphony, Contra Costa County Crisis Center, the Darius Jones Foundation, and the San Francisco Music in Schools Program. Dan Ashley joined ABC7 News in 1995. He is a co-anchor for ABC7 News weekdays at 5, 6 & 11 p.m. and ABC7 News at 9 p.m. on Your TV20.