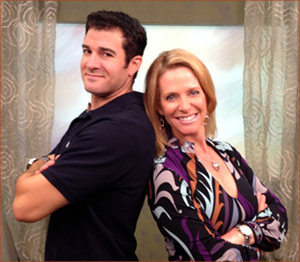 Listen as Shawn and Robin match wits and try to help their listeners and each other understand the language of the opposite sex. Between the two of them they see and cover every possible angle when it comes to dishing out advice, and it all comes together for your listening pleasure on The Talk Pod.
And, yes, send your questions to AskHeSaidSheSaid.com.
SHAWN SHIZZO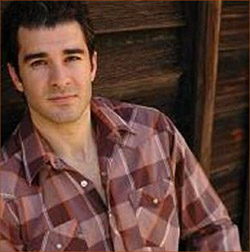 He's no stranger to giving advice and he's likely to need some himself more often than not. But that's what listeners and viewers have come to love about Shawn and his vast knowledge about pretty much anything you can throw his way. And on the rare occasion Shawn doesn't have an opinion or thought about something, he obsesses about becoming an expert on the subject and won't stop until he is.
It's this curiosity and passion for information, combined with his love for broadcasting, that has led Shawn from the airwaves of Northern California radio to Southern California radio and back again. When you don't hear Shawn on The Talk Pod with his beautiful co-host Robin, you can see the two of them together on local television station TV30 where they entertain some of the Bay Area's most interesting guests, followed by their latest segment, He Said/She Said where the advice is free (though some would say priceless) and covers everything from dating to parenting. And who can call themselves advice experts without a recurring advice column? You can read Robin and Shawn's He Said/She Said column every month in Alive Magazine and online at AliveEastbay.com.
ROBIN FAHR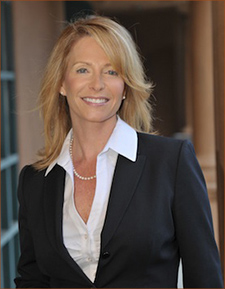 Robin's been telling people how to live their lives since she was three but decided to make a career out of it after graduating from San Francisco State University with a degree in Radio and Television Since then, she's worked both sides of the camera/microphone, serving as TV news anchor, investigative reporter, assignment editor, and news producer as well as radio news reporter and public affairs talk show host, magazine writer, columnist, book reviewer and live events moderator. Robin currently hosts and produces Conversations with Robin and Shawn on Channel 30/Tri-Valley TV, a regional television talk show that showcases interesting people in the San Francisco Bay Area.
You may recognize Robin and her voice from TV commercials and voiceovers, which is exactly how she and Shawn met. Shawn was looking for a host for his production, You Can Cook, a DVD cooking series, when as Robin likes to say, she walked in and showed him how it's done. An instant connection landed her the job, but a half day of shooting and a proposal at a coffee shop a week later landed her a partnership she didn't even know she needed. Blame it on his eyelashes.
In her spare time, Robin runs a public relations company. Her media background gives her a unique edge as a publicist, not only in knowing what it takes to book interviews for her clients, but in her relationships with her colleagues, some of whom are the industry's most influential media professionals. Robin books authors and experts on hundreds of local, regional and national media outlets and as a media coach, offers professional media training services to prepare her clients for their TV and radio interviews, presentations, and more.
What's being said about Robin and Shawn: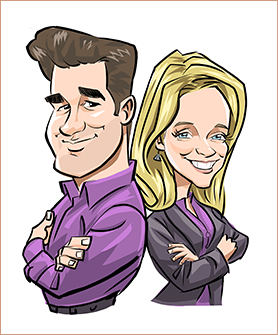 Robin and Shawn have a wonderful chemistry … part marriage, part brother and sister, part friend and colleague. It's rare that a pair nail all of it. Robin and Shawn do. They're smart, glib, well prepared, and friendly. Any programmer should give their material a listen.
~ Ed Baxter, Talk 910 Radio, San Francisco, California
Robin and Shawn…the perfect duo. Clever, funny and a programmer's dream come true! Listen and you'll be amazed!
~ Faith Alpher, Radio Personality 101.7 KKIQ, Your Hometown Station
Our radio world needs (and can use) a funny, energetic, talented couple who can play off each other with the deftness and infectious cleverness of Robin and Shawn. As one who has experienced them up close as a guest on their television show I can gladly recommend them and am pleased to do so — with enthusiasm.
Michael Krasny, Host of Forum on KQED-FM and former host of The Michael Krasny Program on KGO Radio and Take Issue on Bay TV