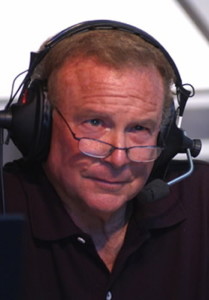 Access a complete "Auto Play" playlist for Ken Dito here.
Ken Dito grew up in North Beach and attended St. Ignatius where he starred in baseball. He started his college career at CCSF where he made All-Conference for that outstanding team. He then moved on to catch at the University of California. Upon graduation, Ken became a teacher in the SF Unified School District.
He is best known for his work as a sports broadcaster with Bay Area radio stations, having started with KNBR and then later at KSFO and KFRC and KGO. He has done broadcast work for the Raiders, Giants and A's during his career.
While at KSFO,in addition to hosting a Baseball tonight, he did afternoon sports in The Wolfman Jack program. He has worked with Hank Greenwald, Bill King, and Lon Simmons.
Along the way he did Color on Stanford Football, something that Cal grads usually don't do.
He has been a Sports Director in a number of San Francisco radio stations but always enjoyed his time at KGO.
Ken and his wife Susan have two daughters and four grandchildren.