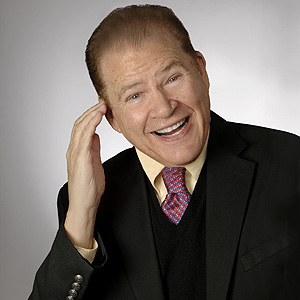 Access a complete "Auto Play" playlist for Lloyd Lindsay Young here.
Lloyd Lindsay Young gained notoriety for his over-the-top delivery and antics. He is the father of former KGET-TV weatherman George Lindsay Young, with whom he worked for several years in New York.
Lloyd grew up in Hollywood, California and has been in the TV/Radio broadcasting business since 1962; starting at Bakersfield, California radio station KWAK AM 970 in 1962. He spent 3 years at WFIE Channel 14 Evansville Indiana leaving in late 1980. He spent time at KGO-TV in San Francisco from 1981-1983. He also spent 12 years at WWOR-TV, channel 9 in Secaucus, New Jersey, through October 1, 1995.
In his ascendancy, he was seen on KIFI-TV, Idaho Falls and heard on KNAK, Salt Lake City.
His trademark intro is "Hellooooo (insert city name)". He is also known for his outrageous weather pointers which are sent in by viewers. His wild weather routine has earned him guest spots on Geraldo and The Howard Stern Show. In a March 2007 interview on Stern's Sirius Satellite radio show, Stern called Young "the most successful mentally challenged person I've ever met."
Young had cameo appearances in the films Working Girl and Age Isn't Everything. Young also introduced George Carlin in his stand-up special What Am I Doing In New Jersey?
It is Young who says "it's a trip, it's got a funky beat, and I can bug out to it" in the Beastie Boys song "B-Boy Bouillabaisse" (in the "Mike on the Mic" segment) from the 1989 album Paul's Boutique. According to author Dan LeRoy in his book on Paul's Boutique, the group commissioned Young to appear on the album when they became a fan of his work on WWOR. The introduction to their song "Hello Brooklyn" may have also been influenced by Young's trademark calls.
"Double L" was a weatherman on KGO 810 radio out of San Francisco on the morning and afternoon (drive-time) newscasts. He performed in this capacity starting in 1996, adding mornings to his schedule in 2009, replacing the retired Leo Ciolino.
Young is now heard on KKSF-AM in San Francisco.