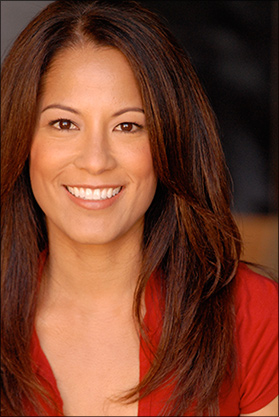 Two-time Emmy Award winning Malou Nubla is the Host and Executive Producer of "MALOU REVIEW" on CBS5. "MALOU REVIEW" is a weekly program (Airs Sundays at 5:00 pm) combining useful information with exciting entertainment.
Malou Nubla has a long track record of success as a lifestyle and features host, both for TV and the internet. She has created, developed, written and hosted award winning programming for CBS, NBC, FOX and E! Entertainment. She has long run her own production company and pioneered a new advertising model that often tripled her clients' revenues. She is an expert at delivering a client's message and creating videos that give them a unique, high end showcase. She is the CEO of her production company, Malou Nubla Productions, Inc.
Most recently, Malou's program, "MALOU REVIEW" aired on KTVU FOX 2 from 2006 – 2012. Malou owns and operates her own television shows and has partnered with a wide variety of businesses.
Malou has also worked for FINE LIVING NETWORK (SCRIPPS, INC.) as Host of "A Winning Vacation" and "27 Acre Garage." In the past, she's worked for E! Entertainment, HBO's Real Time with Bill Maher and appeared on Hollywood Squares for charity.
She can also be seen ON-LINE in a series for HP called "KNOW YOUR PC" where she demonstrates how to use HP computers and products. "Malou Show" programs are also archived ON-LINE at www.MalouShow.com.
Malou hosted KPIX's nightly entertainment program, EVENING MAGAZINE for 6 years with Dirty Jobs' Mike Rowe. Aside from her hosting duties, her special features included "Outdo Malou", "Macy's Makeover Mondays", "24 Hour Fitness – Get Fit with Malou", "What's For Dinner", and "Bay Area Homes for Kids." Her work included travel specials from Hawaii, The Caribbean, Aspen, Canada, Utah, Big Sur, Super bowl XXXVII, Napa, Sonoma, Scottsdale, Nevada and the greater Bay Area.
Prior to joining KPIX, Malou was the news anchor of the number one rated newscast, Daybreak on KRON-TV (NBC). Her work also included live entertainment reports featuring people and places on a daily segment called, "Where's Malou?"
Many television viewers remember Malou when her TV career began in 1994 as the energetic early morning traffic reporter on KRON-TV (NBC). Aside from her traffic duties, she worked extra hours as a writer and reporter to gain more experience in the newsroom. Within two years, KRON expanded her role and Malou became SOLO NEWS ANCHOR when the station launched its 5:00 a.m. newscast.
During her six years at KRON, Malou also hosted Bay TV Morning and The Sunday Examiner and Chronicle High School Sports Show. She's hosted numerous specials for television and has interviewed CEO's, chefs, politicians, pro-athletes, authors, celebrities, doctors and extreme hobbyists.
Since then, she's been featured in The San Francisco Chronicle, The Examiner, San Francisco Magazine, 7×7 Magazine, Filipinas Magazine, The Contra Costa Times, Asian Week, The Nob Hill Gazette, The San Mateo Times, Hoy Magazine, The San Jose Mercury News and Philippine News.
Malou graduated from San Francisco State University with a degree in Broadcast Journalism and was recently inducted into SFSU's Alumni Hall of Fame. She served as the president of the Filipino organization on campus and is very active in the community. Malou lives outside of San Francisco and enjoys spending time with family and friends. Her hobbies include GOLF, dining, working out, shopping, wine tasting, playing Texas Hold'em and entertaining guests at her home.