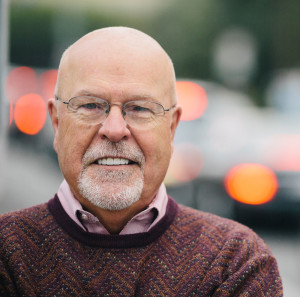 Access a complete "Auto Play" playlist for Stan Burford here.
Stan Burford is best known for the 36 years he spent at KGO Radio and ABC-7 in San Francisco. In recognition of his service at KGO Radio Stan was inducted into the Bay Area Radio Hall of Fame in 2012.
Stan Burford got his start in August of 1961, at age 18, working for a small FM radio station in San Francisco. As he recalls, "It was a delightful place to start, I was there for nearly three years. It was a small station. It's audience could fit into a phone booth."
As a San Francisco native Burford grew up in the city's foggy Richmond District. He graduated from San Francisco City College and San Francisco State University, where he earned a Bachelor of Arts degree in radio-television-film and a Masters Degree in Education.
Stan has worked for more than 20 media outlets and production companies during his 50+ years in the media. The list includes: KBCO, KBRG, KBAY, KFOG, KSFO, KPIX-TV, KCFT-TV, UCSF, WELLS FARGO, AMPEX, KNEW-TV, KBHK-TV, KBSC-TV, KVZK-TV, KGO-TV, KGO Radio, DISNEY CABLE, SFSU, KTVU-TV, PBS & GERMAN TV.
Stan's first BIG break was joining KSFO in 1963, without a doubt, the radio powerhouse in the Bay Area in the 60's & 70's, headed up by popular, iconic personalities like the legendary Don Sherwood and Jim Lange, among countless others.
In the mid-1970s, with wife, Julie, and two young children, Burford packed up and left the Bay Area. He also left the U.S. mainland. Accepting a job to operate a television facility in American Samoa, Burford was responsible for the simultaneous operation of six different TV channels.
Returning to the Bay Area Burford was hired by KGO-TV where he became the station's Executive Producer of programming overseeing the work of 22 producers, 19 directors and a dozen production assistants. It was the busiest television production house in San Francisco. "I was having the time of my life," he says.
The station had a huge budget for locally-produced programming, and, it didn't hurt that KGO-TV 'owned' the marketplace. The station was in a great position – and ABC was the number one network in the country."
During his tenure as Executive Producer the station won dozens of EMMY awards, eleven of which went to Burford for his contributions. He remained at KGO-TV until 1982.
At 39, he joined Power-Rector, a production company based at KQED Channel 9. The firm had won a contract with the Walt Disney Company in 1982, one of 12 production companies nationally that each would produce a series of television programs for The Disney Channel.
For Power-Rector, they developed a science program, Scheme of Things, and Burford was the executive in charge of production. The show was shot all over the country. In nine months, Burford and his crew cranked out 72 half hour episodes.
Burford held down many positions simultaneously. While the Disney contract lasted only a year, Burford had been doing double duty at KGO Radio two years. Beginning in 1980 as a traffic reporter at the station Burford would spend the next 31 years giving traffic reports to the largest audience in Northern California.
In 1989 Burford penned a book, Rush Hour Relief, based loosely on a three-ring binder of notes and maps he would take with him when reporting on the traffic from the air. The book was published by Globe Pequot in 1990.
When not working, he spends time with his wife of nearly 50 years, Julie, at their home in Marin, and also helps her with the Ceres Community Project of Marin (a non-profit organization serving the nutritional needs of cancer patients). She recently retired from managing the Moscone Center.
Along with being a member of he "Pod Squad" there is the never-ending attempt to learn how to play golf.